Meet our Registered Massage Therapists at
Polo Park Chiropractic Centre
Get to Know Us
Chantelle Arevalo, RMT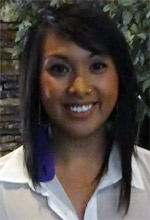 Chantelle has always been interested in how the human body works and in living a healthy lifestyle. Naturally, a career as a registered massage therapist was her calling. She graduated in 2011 and began her career at Polo Park Chiropractic Centre shortly after.
Chantelle's main goal as a massage therapist is to get a patient in a healthier state by helping them reduce their pain, improve their movement and reducing a patient's stress through relaxation massages.
The massage techniques Chantelle uses includes: Deep Tissue, Swedish, Pre-Natal, Cupping and Active Release.
In her free time, she enjoys spending time with family as well as outdoor activities such as camping, fishing, soccer and baseball.
---
Meet Our Massage Therapists at Polo Park Chiropractic Centre | (204) 774-9066